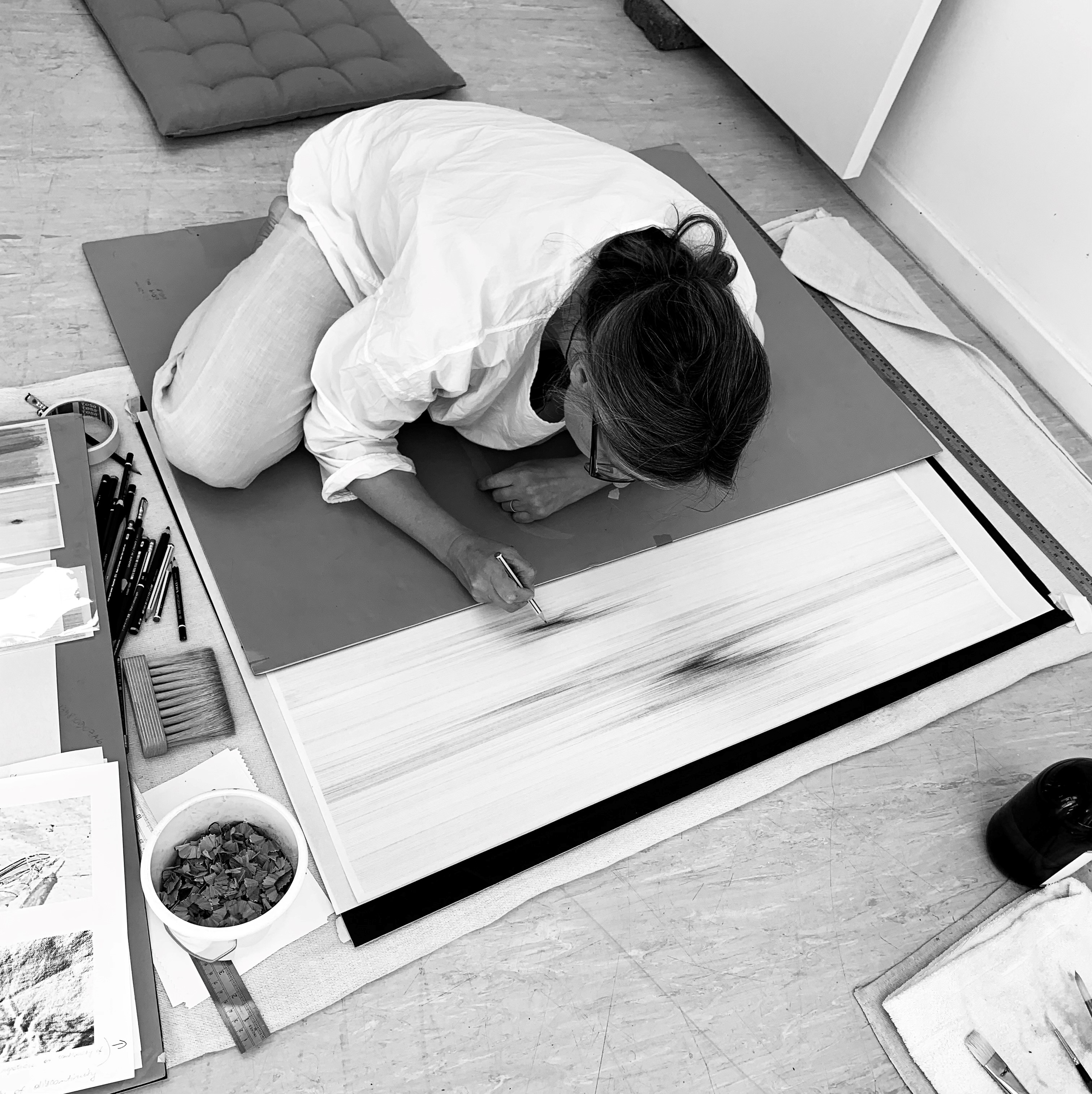 STATEMENT
Anna Levy is a multimedia artist with an oeuvre spanning 30 years. Her current practice focuses on drawing and painting, with reference to her earlier sculpture, photography and moving image works.
Levy's practice is inspired by a range of traditions including Buddhism, East and West philosophies, Sufism and poetry, as well as an ongoing fascination with the elements. Throughout her practice, the artist's work has drawn from nature, the cosmos, dreamscapes, and the unconscious. Playfully dancing at the margins between reality and the mystical. Levy's drawings and paintings transcend material and ethereal realms. They interrogate what it is to exist as both body and soul; our inextricable relationship with land and sea; and the possibilities of capturing the trace of a happening, the passing of time.
Working across multiple series in tandem, Levy's process is one of abandon and return, whereby each developing piece informs and responds to another. Meditative in her production, the artist moves between large- and small-scale paintings, pencil drawings and mixed media works over the course of many years, weaving intimate connections within and between each piece. Described by the artist as 'soul-making', this mode of working creates a synchronicity throughout Levy's oeuvre, constantly developed and refined in an ongoing search for discovery and connection, an openness to the unknown, and the welcoming of surprise.
'Through the work I find new connections with the world, the cosmic and the spiritual. It is a process of discovery – I work at the margins of mystery, playing with the unknown.'
– Anna Levy, 2023
Levy is currently focused on three ongoing series: Colour and Emotion (2023 –); Psyche (2021 –); and Space Between (2019 –).
In Space Between (2019-), Levy uses singular pencil lines to denote the undulating sway of the earth and sky. Working rhythmically from left to right, she builds each composition through the meditative act of extending point into line, line over line, ruled and shaded intuitively. Often large in scale, the artist lets the work guide her, leaning into and embracing the temporality of the process: the act of drawing itself becomes the trace of a happening, a contemplation of being, a voyage of discovery.
The most recent series, Colour and Emotion (2023 –) continues this exploration of circle and line, intention and chance. Using ink, acrylic, pigment and pencil on paper, Levy employs a drip technique across the canvas, creating symphonies of pulsating marks. Musical in their contemplation, the pieces appear delicate and ethereal – raindrops on a window, frozen in time – while their compositions directly allude to the use of both line and point found elsewhere in the artist's work. They capture the poetry of the body in nature, of vapour in air.
The symphonic elements of rhythm and music feature throughout Levy's practice. In Psyche (2021 –), the artist works with acrylics on aluminium board, creating recipes of colour by adding her own pigments to commercial paint. Throughout the series, Levy's paintings are saturated by luminescent shades – deep greens and opalescent blues rise and fall alongside shimmering, oceanic hues. Layer upon layer of paint, applied freehand and flowing linearly from left to right, builds depth of image. Mystical and alluring, the paintings hint at pulsating seascapes and unknown lands: layers of the earth, layers of the mind, and the universality of experience.
Elsewhere, the artist employs pointillist techniques in graphite pencil to capture impressions of the sky, drawn from both early photographs and direct observation (To Still the Breath, 2023). Working at varying scales, hundreds of meticulously rendered points merge and collide, sometimes delicate and whimsical, sometimes forceful and strong. Clusters of marks overlap to form deep grey hues, weaving into and over one another, suggestive of astrological constellations, oceanic forms, or the trace of human breath, bursting onto the page, drawing the eye in. At times displayed alongside Levy's black and white nature photography, the compositions hint at the universal flux of time, both caught and suspended by the artist's hand, alluding to a web of narratives just out of sight.
'We leave a trace of our way of being in the world. Our experience is shaped by our perception of that which we decide to focus on. We may understand our body as space and our skin as the boundary between inside and outside. Our mind space and physical space may be seen as separate or as active 'one continuum'. In my work I am searching to open the readings of that space.
Through my work, I am forging a path for self knowledge, shaping consciousness of self and location within the endlessly expanding space of the cosmos and time.
It is only in ambiguity that we might begin to know ourselves.'
– Anna Levy, 2022
EDUCATION
| | |
| --- | --- |
| 2021-2023 | painting programme, Turps Banana, London, England |
| | |
| 2012-2014 | MA Fine Art, Chelsea College of Art and Design, England |
| | |
| 2001-2004 | BA Ceramics, Camberwell College of Art, England |
| | |
| 1987-1990 | Fine Art Diploma, School of Art, Poland |
SELECTED EXHIBITIONS
| | |
| --- | --- |
| 2023 | |
| | |
| | Painters , Thames-Side Studios Gallery, London, England |
| | |
| | |
| | |
| 2022 | |
| | |
| | Reading Between the Lines , Koppel Project, London, England |
| | |
| | Nature/Nurture, Leyden Gallery, London, England |
| | |
| | All the same age at different times, Fitzrovia Gallery, London, England |
| | |
| | Between the Bars, Terrace Gallery, London, England |
| | |
| | |
| | |
| 2018 | |
| | |
| | Winter, English Garden, Orangerie, a project founded by the City of Munich Department of Arts and Culture, Munich, Germany |
| | |
| | |
| | |
| 2016 | |
| | |
| | Ruins of Time, Asylum, a project founded by the City of Munich Department of Arts and Culture, London, England |
| | |
| | |
| | |
| 2015 | |
| | |
| | Summer Exhibition, Zeitgeist Arts Projects, London, England |
| | |
| | Unspecified, Sluice, London Biennale, England |
| | |
| | Ruins In Time , Crypt Gallery, project founded by the City of Munich Department of Arts and Culture, London, England |
| | |
| | |
| | |
| 2014 | |
| | |
| | Film screenings, Whitechapel Gallery, London, England |
| | |
| | |
| | |
| 2013 | |
| | |
| | Place Replace, Chelsea College of Arts, London, England |
| | |
| | |
| | |
| 2010 | |
| | |
| | Rickshaw House Gallery, London, England |
| | |
| | |
| | |
| 2009 | |
| | |
| | Drawing, Burgh House, London, England |
| | |
| | |
| | |
| 2004 | |
| | |
| | LO.ST., Sous Le Hout Patronage de Jean-Francois Legaret, project founded by The Institut d'Etudes Supérieures des Arts, Paris, France |
| | |
| | Future Map, UAL, London, England. |